WINDOW TINTING TORONTO – WINDOW FILMS FOR HOME & OFFICES

Looking for window tinting Toronto? For installing a home or office window tinting in Toronto, the Window Tint Team provides a high-performance residential, industrial & commercial window tinting services. It is basically a thin laminated window film that is installed on the exterior or interior of the glass surface. Made from Polyethylene Terephthalate due to its clarity, tensile strength and ability to accept the variety of surface-applied treatment. With a wide range of window films for our customers such as Solar films, frosted Films, Security Films, Graphics Films, Commercial and Residential Wall Coverings, etc, we take care of everything; from taking an accurate measurement, providing complete product details, conducting structural and thermal calculation to attaching window films in Toronto.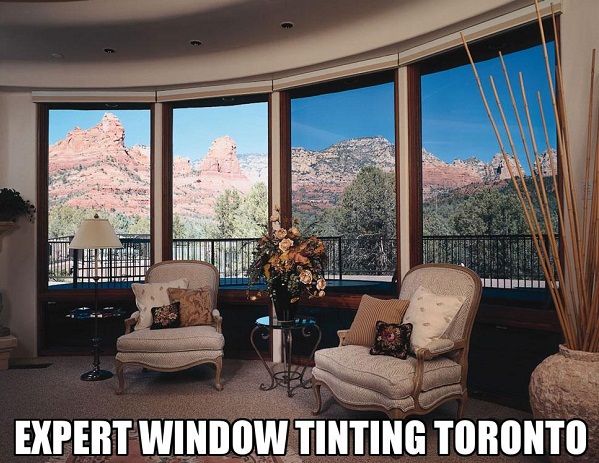 ADVANTAGES OF WINDOW TINTING TORONTO & WINDOW FILMS
Due to the advancement of the house & office window tinting Toronto, more and more aesthetic films are being launched in the market that add style to the home. Moreover, applying window films can block up to 80% of the sun's heat that will lower the air conditioning cost. In winter these same window films will retain the interior heat again reducing the heating cost. Some of the other advantages of residential & commercial window tinting Toronto are:
Window tinting provides attractive appearance: The customers can choose from a variety of trendy design options and personalized wall decals available in the market to match their decor needs.
Window films help reduce energy bills: With the help of our glass tinting in Toronto, we can save between 30% and 50% of the energy bills.
Window tinting protects you from harmful UR rays: We provide high-quality solar films especially for residential window and office spaces which block almost a 99% of the UV rays to keep our customers safe and secure. Nowadays we have seen many dermatologists in Toronto are also recommending window tinting for healthier skin.
Window films installation is quick: Without interrupting any of your daily activity, we perform window film installation in any part of Toronto with ease and at a very fast pace so that you can enjoy our services without delaying your regular and scheduled jobs.
House or office window tinting minimizes Sun glare: Our house window tinted glasses will reduce the glare caused by the direct sun rays, thereby providing a comfortable environment and a happy family time.
Reduce furniture fading after installing window tinted glasses: With constant sunlight on the furniture causing fading to your upholstery, tinting your home window can sure save your expensive furniture colour and texture.
Window tinting slows down window glass breakage: If the window shatters, the films add security and hold shards together. They provide protection to the expensive stained glass with stained glass window film at home or offices.
TYPES OF WINDOW FILMS IN TORONTO WE PROVIDE
We provide top-notch and the best residential and office window films in Toronto that comes in different shades, colours, thickness and grades to suit everyone's need.
Our window tinting products include
Solar Window Films: Keep your home or office brightened and lightened with our solar window films in Toronto. They help in reflecting harmful UV rays and glare which enhances the comfort of our customers'. Also, varying levels of insulation keep energy under control in any climate.
Frosted Window Films: Frosted window films in Toronto are the best for office interiors and buildings as they give a sophisticated look and provide elegance from outside. With the frosted films, the office looks brightened with the sunlight and allows office privacy. It blocks chaos from the outside world and thus removing any distraction. They come in a variety of patterns such as translucent, etched surface or sandblasted.
Security Window Films: Most glasses are not made to defy the wind-blown debris, vandalism, undue force on the glass and any other events. If accidentally glass shatters it can harm anyone in the vicinity. For preventing such accident security window films in Toronto are designed. They are available in a variety of strength and are fitted to the existing windows making it invisible. They are basically used in the large commercial structure.
Decorative Window Films: Decorating home with tinted glasses add beauty and elegance to the home and the offices. The decorative window films in Toronto have added to such windows it multiplies the beauty. There are various decorative patterns and one can even order customize the films. These are very easy to install.
Graphics Window Films: A plane window is always boring and doesn't attract customers. A proper placement of Graphic Window Films Toronto in a strategic condition can attract many eyes. This is an inexpensive advertising. They provide direction like adding push or pull as a message on a door.
Perforated Window Films: Perforated Window Films Toronto, also known as one-way vision film, it provides full visibility viewing from outside while allowing sunlight reach inside. The print and visibility depend upon a number of holes. Mostly they are uniform in size. The most common is the 50/50 pattern that 50% is printing and 50% is perforated. It is mostly applied in places like hotels or airport, windows or doors.
DI-NOC Window Films: Di-Noc Window Films in Toronto are cost-effective and versatile to many traditional construction materials. More than 600 patterns are available in substitute to expensive natural and synthetic materials like synthetic finishes, marble, stucco, etc.
Smart Window Films: Smart Window Films in Toronto are creative and unique optical vision and electronic glass with good insulation and reflection effect that makes the room warm in winter and cool in summer. Even though sometimes it is not transparent, the light penetration is good with proper privacy. These smart door or window tint costs low, therefore, these are easily affordable.
Residential & Commercial Wallcoverings: In addition to window tinting in Toronto, we also provide commercial and residential wall coverings. Many wall coverings are available in the market and they should be selected based on the type of the environment. While wall covering is chosen the first thing to consider is the quantity of traffic in the area.
IMPORTANCE OF WINDOW TINTING & WINDOW FILMS TORONTO
Home Window Tinting: Toronto residential window tinting reduces heat and AC loss thereby saving energy. Carpets, drapes, and Furniture are prevented from fading. The windows become safer from the damage done by broken glass. Bathroom Window Films that are opaque window films thus ensures high privacy. It prevents strangers ogling inside. Decorative window tints can make the house more beautiful.
Office Window Tinting: Our Toronto office window tinting services maintain the comfortable work environment, removing problems like heat, temperature fluctuation, Sun glare, etc. Security window tinting provides safety from buglers to damage and destroy property.
WHY HIRE US FOR WINDOW FILMS & WINDOW TINTING SERVICES IN TORONTO
Good knowledge of local regulation: As we are doing window tinting in Toronto for years, we have extensive knowledge of local laws and regulations related to window films & window tinting. Hiring some newbie or one who doesn't have thorough knowledge about the local regulation can land you in trouble. Thus, hiring a professional window tinting company like us gives you the assurance that everything is being within the limits set by the local government authorities and you don't need to worry about the legalities related to tinting in Toronto.
Expertise: We have a team of residential & commercial window tinting specialists that can outrank any other window tinting shop or company in Toronto in terms of house & office window tinting. Application of films may not happen correctly if you hire a newbie. Hiring window tinting experts like us can give you the assurance that window films will be applied properly and will look good.
Affordable packages: All our window tinting packages are affordable but not compromised in quality, whether you require house window tinting or office window tinting Toronto. We provide value for money and never compromise on quality. We use only high-quality films and innovative products.
Customer support: Our customers always praise us for the kind of after-sales customer support we provide them. Good after sales customer support is very rarely found and we pride in being providing good customer support even after the job is being done.
In order to get a free and quick quote for window films & window tinting Toronto to call our experts now on 647-217-4167.